CUSTOMER SERVICE
As a customer we strongly believe that you should be 100% satisfied with your new home. We have developed a strategy that ensures everything comes together seamlessly and your new custom home is built to the highest building standards. When you choose to build with Moonhill Homes you will have the chance to communicate your ideas directly to the builder and meet together directly on-site to discuss any changes. The builder will develop an open, transparent and communicative relationship with you from the Agreement of Purchase to the completion of all after sales warranties. This ensures that all of our customers are 100% satisfied knowing that all concerns have been directed to the owner of the company himself.
Moonhill Homes has developed great relationships with all of their trades and only uses the best. Each and every home we build is constructed using only high grade materials, and devote attention to detail of all construction and processes throughout the entire project.
The best part of building with Moonhill Homes is that once your home is complete, the excellent service does not stop there! You will be provided with a new home Tarion Warranty Package which outlines the warranty coverage. In addition, you will have the peace of mind knowing that in case of an NON-UTILITY emergency you can contact the owner himself, the same person you have been communicating with from day one of construction.
*Emergency situations due to the failure of a utility to provide the service are not within the builder's control and should be addressed with the appropriate utility provider.
WARRANTY INFORMATION
Moonhill Homes is a registered builder with Tarion Warranty Corporation. That means every home sold comes with a New Home Tarion Warranty Package and a certificate of completion and possession stating the day that your new home warranty will commence on.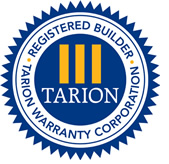 New homeowners benefit from One Year Warranty Protection, Two Year Warranty Protection against defects in work and materials, and Seven Year Warranty Protection against major structural defects. This warranty becomes transferable in the case that you decide to sell your new home before the warranty expires.